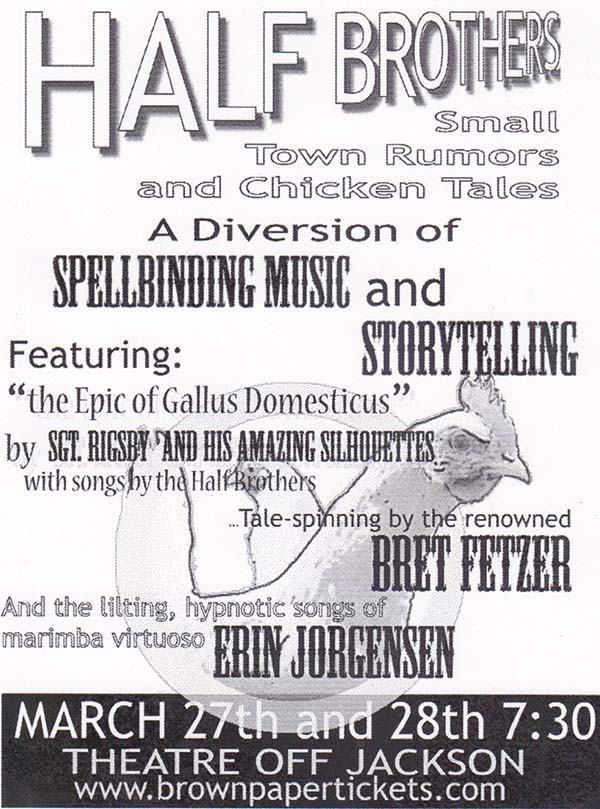 Three-piece Seattle alt-bluegrass band and tall-tale artisans The Half Brothers take the stage at Theatre Off Jackson for two nights in March to ply their storytelling trade, accompanied by some of the city's finest writers and musicians.
SMALL TOWN RUMORS AND CHICKEN TALES shines a spotlight on Seattle's renowned Half Brothers love for songs that paint pictures and tell stories. They will be joined on-stage for this evening of musical tale-spinning by writer/raconteur Bret Fetzer, punk marimba virtuoso Erin Jorgensen, and Sgt. Rigsby And His Amazing Silhouettes.
The evening promises a satisfying blend of soulful music and wry storytelling. It will feature an encore performance of Things Have Never Been the Same, the narrative song cycle composed for last years Northwest New Works Festival at On The Boards. Also featured is a brand-new piece, The Epic of Gallus Domesticus, a shadow play developed in conjunction with Seattle's beloved Sgt. Rigsby and His Amazing Silhouettes. Erin Jorgensen will debut new arrangements of Appalachian mountain gospel songs, and writer Bret Fetzer will read a newly-composed fairy tale he has written specially for the occasion.